An Interview with Mr Amarachi Nwakanma, CEO of God's Grace Diagnostics Limited, Umuahia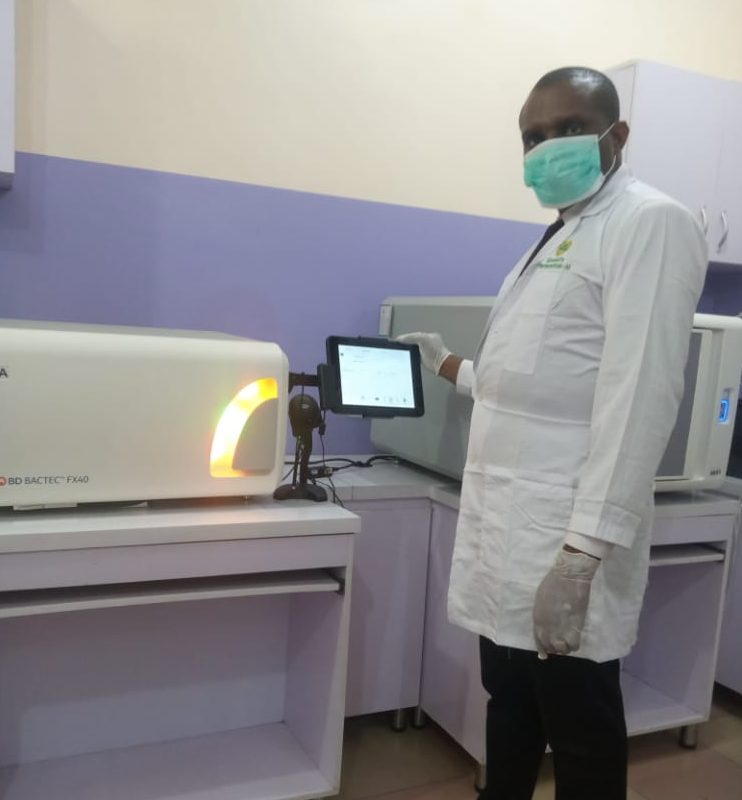 1. Tell us about yourself and the laboratory (highlighting what you do and your address):
I am Mr. Amarachi Nwakanma, a certified medical laboratory scientist with a post-graduate diploma and master's degree in chemical pathology. I am also the Chief Executive Officer of God's Grace Diagnostics Limited.
God's Grace Diagnostics (GGD) was established on May 31, 2017, and is located at 30 Abiriba Street Umuahia, Abia State, Nigeria. We are on a mission to improve health and wellbeing by providing innovative, timely, and quality services. Our vision is to make GGD a reputable Diagnostic center recognized for quality, innovation, precision, and accuracy while improving health and impacting lives.
We specialize in most fields of medical laboratory diagnostics, including clinical chemistry, virology, blood group/serology, hematology, and microbiology.
2. How did you get to know ISN? 
One day, I was in my office when a marketer from ISN came in. He informed us about ISN's products with great emphasis on your support services. He was so convinced that ISN would offer the best support services compared to other competitors. I subscribed to the partnership with ISN because of this, and I have not been disappointed.
3.
How long have you done business with ISN:
We started with ISN in September of 2017, four months after the opening of our laboratory, and we are still with ISN today. I see our relationship with ISN as a divine connection. I have never regretted the decision to partner with ISN. It was a worthwhile decision.
4.
What tests do you offer, and how has ISN helped you in achieving this?
We have run a very expansive variety of tests, most of which are facilitated using instruments supplied by ISN. We have the BD Seditainer, which we harness to run erythrocyte sedimentation rate (ESR). In clinical chemistry, we have the Roche Cobas c111, which we use for the basic photometric analysis, liver function tests, kidney function, glycated hemoglobin, D-Dimer, gamma glutamate transferase (GGT), etc.
We also have the AVL 9180 electrolyte analyzer device, which uses the best technology for electrolyte analysis: ion-selective electrode. We use this for sodium, potassium, and chloride tests. We use ISO-certified instruments at God's Grace Diagnostics to run our analysis. There is hardly any specialized test that God's Grace Diagnostics will not run with quality controlled and well-calibrated procedures, going by the recommendations of CLSI.
At GGD, we place a keen interest in pre-analytical procedures. This includes patient preparation to ensure that samples are taken correctly. Also, we use BD's ISO certified vacutainers as recommended by the Clinical Laboratory Science Institute for our sample containers. This is because we are very much aware that diagnosis starts from pre-analytics. We also run coagulation function tests using Roche's Coaguchek Pro II instrument.

This enables us to give APTT, PT, INR, and we will also give you the control of APTT which most hematologists require to make their calculations. In Microbiology, we have the BD Bactec FX40 and BD Phoenix M50 instruments which we use for blood culture and identification and susceptibility testing, respectively. Harnessing the immense capabilities of these powerful devices has been wonderful.
5.
What do you consider as the best attribute of BD FX40 about the instrument?
I love the BD Bactec FX40's Short Turnaround Time (STAT). In less than 2 hours, the BD Bactec FX40 can flag a blood culture as positive! Before the FX40, it would take a minimum of 48 hours to have a preliminary report. At God's Grace Diagnostics, we then transfer the positive blood culture into the BD Phoenix M50. 

To be continued…
The following procedure will bring an innovative turn on one of the most basic practices in medical microbiology. Catch the next edition of ISN Digest for the concluding part of our Interview with Mr. Amarachi Nwakanma.
To find out more about God's Grace Diagnostics, visit their website
Ebunoluwa Valerie Fowobaje
Executive Assistant,
ISN Products (Nig.) Ltd