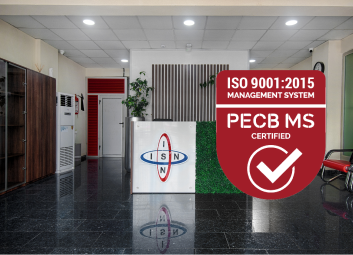 The culmination of this effort towards increased quality and excellence did not surprise the ISN team in the last quarter of 2020. The company has always challenged itself with a vision to be the best-in-class healthcare-focused company in West Africa. This vision propelled the Managing director, the management team, and the entire staff of ISN to attain the ISO 9001:2015 certification on the 18th of December 2020.
The ISO 9001 is a set of quality management standards that helps organizations ensure that they attain customer satisfaction within regulated requirements related to their products and services. Getting the ISO certification was indeed a rigorous process for ISN. The process came with a lot of training, awareness, and modifications to Standard Operating Procedures (SOP). Adapting to the various SOP changes brought about by the certification process was one major challenge the company faced.
The process started with an internal audit which was followed by another audit, this time by an external consultant. Afterward, a stage 1 audit was carried out by the PECB MS certifying body, which was a success. After the second stage audit, ISN was then recommended for certification. The certification was received with great excitement as the requirements already aligned with the company's goals, vision, and mission.
Furthermore, the ISO certification exposes ISN to yearly surveillance to check how the company has maintained the standard. The certification is also renewed after three years to ensure that the excellent quality management system that ISN has adopted is engraved into the core processes and methods of the company. Other benefits of this certification include improved customer satisfaction, faster delivery of products, organization effectiveness, etc.
In conclusion, achieving the ISO 9001:2015 was a learning process for all ISN team members. The company looks forward to continued sustenance and an improved quality management system.