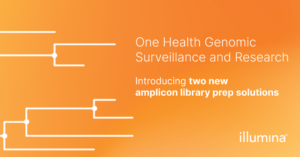 In the genome era, infectious diseases don't have to be a disaster.
To further enable infectious disease and public health researchers decode pathogens and make more informed decisions to help keep us safe, Illumina is proud to introduce two new amplicon-based library prep solutions. Developed on the foundation of the proven COVIDSeq™ Assay workflow, Illumina Microbial Amplicon Prep (IMAP) and Illumina Microbial Amplicon Prep—Influenza A/B (IMAP-Flu) are designed to help build global genomic surveillance capabilities, support One Health applications, and power impactful microbiology research.
The IMAP kit is a complete custom amplicon library preparation kit based on the popular COVIDSeq Assay. It is designed to expand the discovery power of microbiology and infectious disease research. Ideal for One Health applications, this unique library prep solution supports genomic surveillance efforts to track pathogens over time and geographies, detect variants, classify pathogen strains, identify microbial resistance markers, and more.
IMAP is a complete custom amplicon library preparation kit that includes reagents for cDNA conversion, amplification and library preparation for 48 samples.
Supports user-designed primers to sequence pathogens of public health concern
Enables high-quality genome-wide coverage
Accommodates DNA and RNA inputs from a range of sample sources and types
Integrated data analysis with DRAGEN™ Targeted Microbial App